It's the weekend, which means it's probably a good time to cook up something delicious for the coming week. To help you in your endeavors toward deliciousness, I offer you the very first of an ongoing series of recipes. Here, to kick off the recipe portion of the Simple Spoonful, I present you with…Mighty Morning Granola!
Take a look–ain't she purty?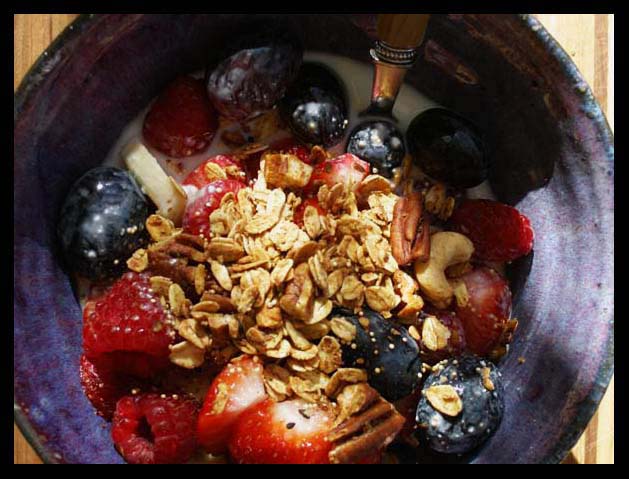 Granola has become a staple here in our household. Either the Unicyclist or I cook up a batch on a biweekly basis, and it's almost never the same. Granola is a very forgiving dish, not to mention a wonderful platform for experimentation. You want coconut? Toss it in! Hate cashews? Use peanuts! Want to find out what happens when you swap almond butter for some of the oil? Yee-ha! Want dried apples, raisins, and cardamom in this batch? Go for it! It is inevitably delicious.
I use a diabetic-friendly basic recipe with a lot of protein to start with because I think breakfast should be a nice, solid, protein-carb-fat combo to get you going. In general, but especially in the morning, you want to avoid foods that are likely to make your blood sugar jump unless you want to crash out before lunch. I'm talking to all of you, not just diabetics here. Here's what makes this recipe good for stable blood sugar levels:
the whole, unrefined grains
agave nectar as the sweetener
nuts, flax seeds, and olive oil to slow absorption into the blood
mesquite meal (Optional and pricey, but very delicious. A little goes a long way. I get mine free, harvesting the pods around my home in late summer. Native Seeds, a non-profit organization In Tucson working on seed-saving and reducing the incidence of diabetes in Native American populations of the southwest by preserving and restoring traditional food cultures, offers mesquite meal for sale on their site. The New York Times also has a great article on Native Seeds and, among other things, the impact of mesquite on blood sugar.)
In addition, the Unicyclist and I devour our tasty granola with fresh fruits (full of fiber and more filling than dried fruits) and plain, unsweetened yogurt for additional protein and fat to slow sugar absorption. I love plain yogurt. If you don't (yet), but you are a yogurt eater, try to cultivate a taste for it. Fruit flavored or fruit-on-the-bottom yogurts are often loaded with high fructose corn syrup, artificial sweeteners, "natural" or artificial flavors and colors, and thickeners like carrageenan, none of which are especially good for you, nor necessary for a delicious breakfast. Lots of people eat yogurt because they think it's healthy. To get the best health value, keep it simple and avoid additives. And that's not a yogurt-specific rule.
Okay–ready for the nitty-gritty? Here's a basic recipe. Customize as you see fit.
Mighty Morning Granola
Preheat your oven to 350 and get out a couple baking pans or cookie sheets with edges–this makes a small mountain of granola!
In a large mixing bowl, combine the following ingredients and mix well:
3/4 c agave nectar
1 1/2 tsp vanilla extract
1/4 c olive oil
2 tsp cinnamon
1/2 tsp salt
2 T mesquite meal (optional)
Next, stir in:
1/3 c fresh-ground flax seeds (Grinding them is important; whole flax will just pass through your digestive system without giving you the benefits. I have a coffee grinder for flax and spices I picked up at a garage sale for a dollar–works great. Also, remember to store unused flax in the fridge, as flax oils are somewhat delicate.)
1/2 c uncooked millet
7 c rolled oats (I told you it was a mountain of granola!)
1 1/4 c chopped or whole nuts and seeds of your choice (sesame, pumpkin, pecan, sunflower, cashew, etc.)
Note: If you want to add dried fruits, I recommend adding them at or near the end of the baking time–they tend to cook oddly, in my experience. Raisins should be chewy, not crunchy. Call me crazy.
Stir everything well, then spread thinly on the baking sheets like so.
Pop the pans in the oven. After about 8-10 minutes, you'll need to carefully stir the granola (i.e., don't send it flying all over the floor like I do) and put it back in for another 8 minutes. Stir it a second time, and then give it about 5 more minutes in the oven. You want it to be browned so it crisps up well, but you do need to keep a close eye on it, as it can turn from golden to charred pretty quickly.
Let it cool in the pan completely. It should be nice and crisp after cooling, and mildly sweet. Store it in an airtight container (we use mason jars) and keep it somewhere cool and dry. Enjoy with seasonal fresh fruit and yogurt.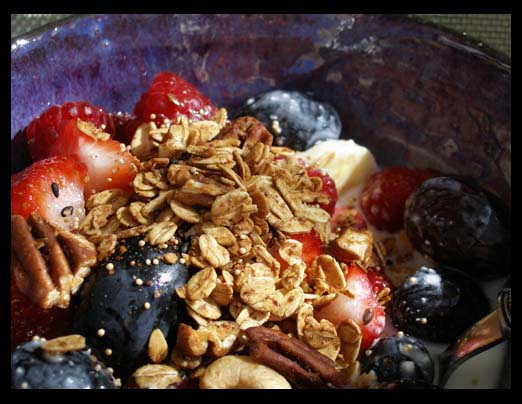 Chomp!
3 comments