The Challenge: Pull off Christmas dinner for seven in a one-butt kitchen without tripping over any one of the five dogs underfoot
The Menu: Lentil soup, roasted root veggies, green bean casserole, fresh bread, stuffing, garlic mashed potatoes, mixed greens salad with goat cheese, cranberries, and pecans, pumpkin and pecan pies, and the requisite turkey and gravy for the omnivores in the group
Mom and I had a pretty elaborate choreography going on in the kitchen.  As mentioned, it's a one-butt kitchen, and there were two to three human butts in it at most times, never mind the doggie butts…or the extremely hopeful doggie faces.  Despite the occasional butt bump, everything went extremely well.  So, ready for the skinny on a couple of the dishes?  After the jump, find out how I modified some classics for vegetarians and those concerned about blood sugar.
Pumpkin Pie: There are some staples that spark people's passions.  A lot of us have Aunt Lolas who get very dramatic about an absence of pink mounds of cranberry fluff at Thanksgiving, for example.  And my mom gets passionate about the pumpkin pie recipe on the back of the can.  Ergo, pumpkin from the can was on the agenda.  That's what we did, with a few adjustments.  We made a crust from white whole wheat flour and Earth Balance non-hydrogenated shortening, substituted agave nectar for the sugar to make it diabetic-friendly, added a teaspoon and a half of arrowroot to thicken the extra liquid, and made sure to add some fresh grated nutmeg.  Although it wasn't the pure, unadulterated canned-pie recipe, it was extremely tasty. The real whipped cream sprinkled with cinnamon didn't hurt, either!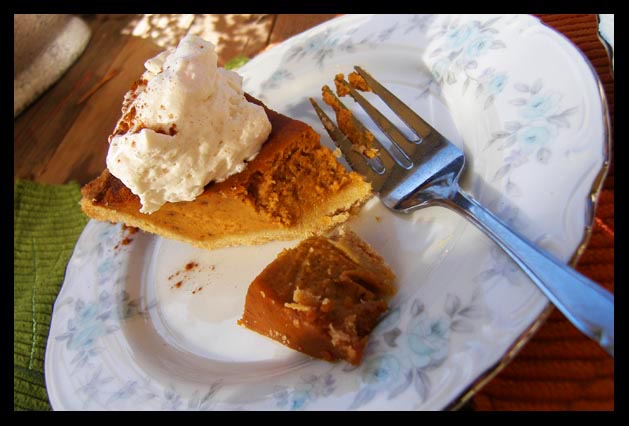 Pecan Pie: This was my first pecan pie undertaking.  I had always admired pecan pies—so pretty, so nutty and tempting.  I imagined that achieving that custardy inside and crispy top required alchemy almost certainly beyond me.  I saw the basics at the inimitable Pioneer Woman and decided to give it whirl.  Of course, since I am an incurable meddler, I swapped out a mix of brown rice syrup and agave for the sugar and corn syrup, added a dash of cinnamon, tossed in a couple more handfuls of pecans, and made sure to dry roast the nuts first.  It turned out to be a very tasty pie, but, even with the less-sweet brown rice syrup, it was still too sweet for me in the way that pecan pies tend to be.  I like either a mild sweetness or a nice sweet-tart, sweet-tangy taste to my sweets–raspberry, citrus, etc. L'sigh.  Perhaps pecan pie and I are not meant to be.  Plus, based on the concentrated sweetness, I have a suspicion that the sweeteners lost a fair bit of water during cooking, making the sugars more concentrated and potentially less appropriate for diabetics.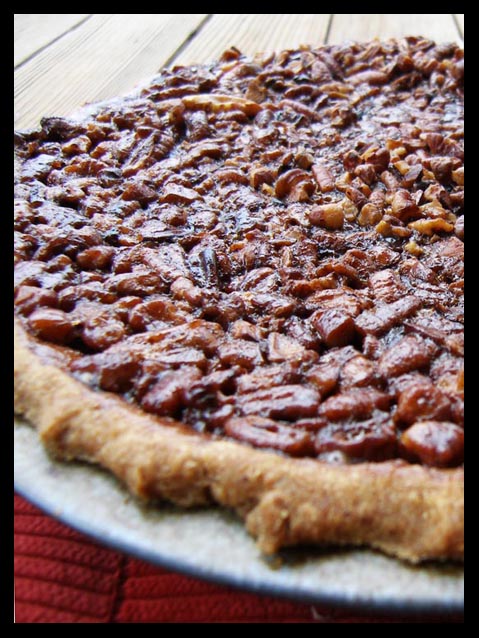 Sage and Mushroom Stuffing: This was also the first year I tried making vegetarian stuffing.  Laws, if I'd known what a breeze it was, I would have been doing it for the last many-a-year.  Stuffing has always been my favorite part of Thanksgiving, and I've gone without in recent years because my mom does it up old school—giblets, broth, sausage, etc.  I just tossed in a bunch of whole-grain bread cubes, a generous helping of sage, parsley, rosemary, and thyme from the garden, sauteed mushrooms with garlic and celery, two eggs, and enough vegetable broth to get it good and wet.  I spread it in a thirteen by nine pan, covered it tightly, and popped it into the oven until it got steamy and crispy-edged and wonderful.  Success!
Mixed Greens Holiday Salad: For a healthy, fresh green dish, it doesn't get any easier.  Sprinkle a salad mix or some baby spinach with toasted or candied pecans (candied nut recipe to be published closer to "real"  Christmas), dried cranberries, and fresh goat cheese.  It's light, fresh, and clean–enjoy it without salad dressing.  While I would have loved to post a picture for you, it slipped my mind last night and we devoured all the greens completely, leaving me nary a weed for a photo op today.  What can I say?  They're good for you.
I'll be posting recipes for garlic mashed potatoes and green bean casserole in the coming weeks.  Suffice it to say that they can make strong folks weak in the knees.  Mmmm…Now, if you'll excuse me, the Unicyclist is heating up leftovers for lunch.  Gotta go!
4 comments