Last week, there was a moment.
The moment came some time after the third batch of homemade cream of mushroom soup, some time after I had a nice dusting of flour on my face and four pies sat cooling on the counter, just a minute or two before my second green bean casserole completely from scratch was popped in the oven.  The moment came after Thanksgiving trailed so closely on the heels of our early family Christmas, leaving no space to breathe.
It was the moment—just one moment—when I questioned the wisdom of investing so much time and effort into fancy holiday dishes that would almost certainly be devoured in a single sitting.  What was the point?
However, when your guests ask permission to lick out the green bean casserole dish and the insane amount of garlic potatoes you made are devoured almost the second you turn your back, when the table is surrounded by fat and happy tummies and family faces smiling contentedly…when all this is going on and you know you fed your guests real, healthy food, responsibly grown…well, things are pretty doggone good.
But I have to say, the Unicyclist and I are looking forward to keeping things simple around here for a while.  Today, for our second Dark Days Challenge recipe, we decided to hit the nearby Sunday farmers' market and see what we could come up with that wouldn't be overly fussy or fatty, seeing as how we recently consumed half our body weight in pie.  Here's our haul:
Let's take stock here.  I realize you may be goggling at some of those items, but living in the desert does have some advantages.  End-of-season zucchini in November is one of them.  Three rows of eggplant going gangbusters at our favorite farm is another.  I didn't think to ask, but the tomatoes probably came from a greenhouse or a hoop house.  However, the nurseries in the area are already selling Early Girl starters.  I'm tempted to pick some up, but we did a lot of tomatoes in our little space last spring and probably need to give the dirt a little rest and recovery time.  Anywho, you can get a better gander at everything below.
One spaghetti squash, a whole mess of pesticide-free tomatoes, three eggplant in varying shades of gorgeous, one zucchini, two peppers, fresh basil (actually from the CSA but which somehow wandered into the shot), and a bag of purple spinach.  With the exception of the tomatoes, everything was certified naturally grown.  The tomatoes were pesticide-free, and—excellent news—I got them for $1.50 a pound (50% off regular price) because when I told the gentleman that we wanted to make sauce, he showed us where the dead ripe or slightly soft tomatoes were. It never hurts to ask serious tomato sellers (the ones who have at least a couple large flats of tomatoes for sale) at farmers' markets if they have a discounted batch.  If you want to can, freeze, or use them immediately, you can make out like a bandit.
Based on what produce looked tastiest, the Unicyclist and I decided to go with a chunky, ratatouille-like sauce over spaghetti squash.  To the ingredients we got at the market, we added half an onion and two small hot red peppers from our CSA share (local), garden marjoram and rosemary (backyard local), five cloves of garlic (not local), a splash of olive oil (not local), and a tablespoon of grated Parmesan (not local).  The finished dish was savory, warm, and filling—perfect for cool evenings.  It took a little over an hour of active time to finish everything, but when you consider that the recipe below makes about eight servings and that the Unicyclist and I will get four meals total out of this cookfest, we're coming out okay.  Even better, the whole kit and caboodle cost about $17.05.  Split eight ways, that comes to $2.13 per person, per meal, which beats the pants off a "value meal" any way you slice it.
The Moral of the Ratatouille Story (Money-saving tips):
Grow your own herbs indoors or out.  Dry or freeze them if you're not fortunate enough to live in a place where frost is virtually nonexistent.  If you live in warmer climes, pinch the flowers off as they form to keep your herbs from going to seed.  Most herbs are very easy to grow (invasive, if you look at the basil and marjoram and mint in my garden), yet they are usually expensive in grocery stores because they are highly perishable and require special care in packing and shipping.
Check for dead-ripe produce discounts at farmers' markets and co-ops.  Many places offer them.
If you're looking for Parmesan at a grocery store with an actual cheese counter, check for Parmesan rinds.  Some stores will bundle them up and sell them at serious discounts, often 50% off or more per pound.  You can grate off quite a bit of cheese from what is normally discarded, but be careful of your knuckles.  The rind itself can be used to flavor beans, broth, soups, stews, and sauces.  Just ask Rachel Ray!
Simple Ratatouille Over Spaghetti Squash
It really is easier than it looks.  You have several things going on at once, but many of them are slow and pokey, leaving you able to handle everything.  Give the recipe a read-through before you start, and it'll be a snap!  If you've never worked with spaghetti squash before, prepare to be amazed by this miraculous hunk of fall goodness.  It's a fun alternative to store-bought pasta, and it's a breeze to make.
Ingredients
1 medium to large spaghetti squash (3-4 pounds)
1.5 lbs eggplant, about three smallish to medium
1/2 medium onion
5 cloves garlic
2 small hot red peppers (optional)
1 medium zucchini
2 bell peppers (red is nice)
about 2 lbs fresh tomatoes (about 8 small to medium tomatoes)
2 T olive oil
24-30 leaves of fresh basil, washed and chopped or coarsely torn
other fresh herbs as desired: marjoram, rosemary, oregano, or whatever else is terrorizing your garden (I used basil, marjoram, rosemary, and dried oregano)
a couple handfuls of spinach, stems removed, coarsely chopped
salt and pepper to taste
grated Parmesan (optional)
Preheat the oven to 400 degrees.
Cut the spaghetti squash in half lengthwise, scrape out the seeds, and set the seeds aside for roasting.  (All pumpkin and squash seeds are edible, as are their hulls.  And they're tasty.  This time of year, I always have a collection drying on the counter.)  Lay the squash halves face down on a shallow baking sheet and piece the skin several times with a sharp knife.  Add a few tablespoons of water to the pan.  Put the pan into the preheated oven and bake for 45 minutes, or until you can piece the skin easily with a fork.
Meanwhile, roast your bell peppers.  Lay them on a baking sheet in the oven at 400 degrees and cook until the skin is blackened in spots and peeling away from the flesh, about 30 minutes.  To peel them, let them cool in an environment that traps moisture.  Many people recommend wrapping them in a paper towel and them putting them in a plastic bag, but I find that putting an overturned bowl on them works just fine.  After they are peeled, pull out the top, remove the seeds, cut the pepper into narrow strips and set aside.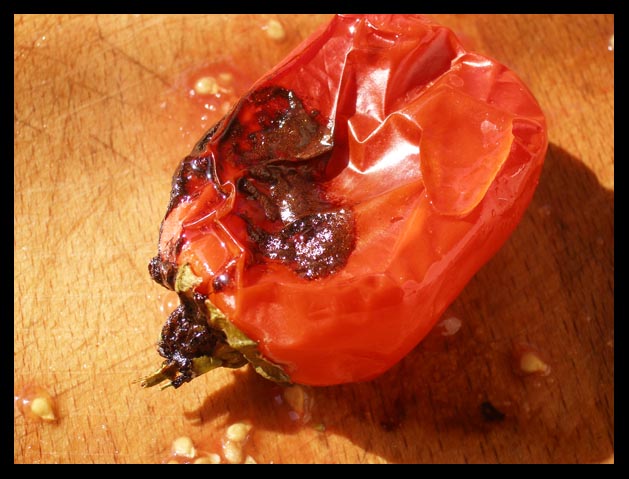 Once the peppers are in the oven, cut the eggplant into 1/2-1″ cubes and place in a steamer.  Steam until very tender, 10-15 minutes.  (While you may have heard that salting eggplant is essential to cut the bitterness, salting actually just draws out the water so eggplant soaks up oil like a very thirsty sponge when you sautée it.  Steaming it keeps the rich texture but contributes far fewer calories and far less sodium, while also cutting down on cost by reducing oil use.)
While the eggplant is steaming, peel and mince your garlic, chop your onion, and mince your optional hot peppers.  Sautée them in a large soup pot in a tablespoon of oil for about 3 minutes over medium heat.  Slice the zucchini in half lengthwise, then cut into slices and add to the pot.  Or chop 'em up however you want.  Who am I to judge?
This is a good time to chop your tomatoes.  I'm lazy—I don't peel them.  No one seems to mind. Add them to the pot and let them cook down over medium-high heat.
After the tomatoes are mostly cooked down, add the roasted peppers and the eggplant to the pot along with the fresh herbs.  Simmer for about 5 minutes.  If the ratatouille is soupier than you want it, strain the mixture into a new saucepan, boil the juice down, and add back some of it to the big pot.  Adjust the herbs, salt, and pepper to taste.
Just before serving, turn off the heat and add the spinach.  Stir it in until it wilts.
Now for the fun stuff.  Using a fork, tines down, scrape the inside flesh of the spaghetti squash until it peels up in strings that resemble (big shock) spaghetti!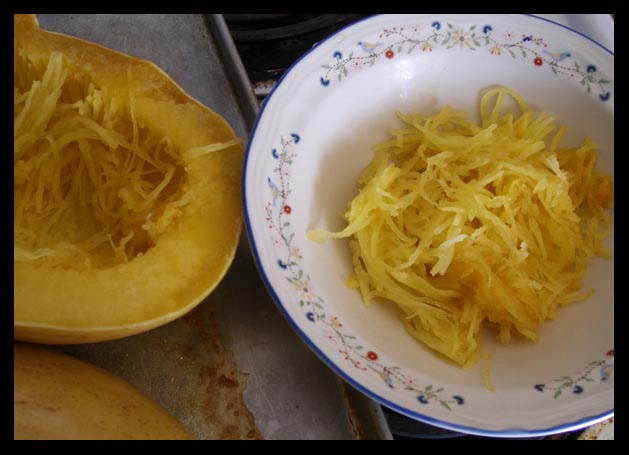 Ladle a few generous scoops of ratatouille over the squash, top with grated cheese if desired, and enjoy!
Want an extra flavor boost?  Try adding some chopped olives, capers, or flavorful mushrooms to the recipe.
Guten Apetit!
5 comments