Apparently last week over at Urban Hennery, some murmurings started sneaking in about how many of the Dark Days Challenge recipes people had been submitting seemed…well…complicated.  It seems some of the folks taking the challenge for the first time were taken aback by the ambitiousness of multi-course dinners and fancy sauces created by those who have been local fooding and cooking from scratch for a good long while.
I'm sure you all know my stance on that.
I dig fancy-pants meals sometimes.  I really do.  But simple is also good.  Very good.  And tasty.
I can do simple.
So, this week, I decided to keep my Dark Days meal extra-simple and use some ingredients that more folks would be able to find without, you know, having to move to the desert.  With the exception of the orange, I think I done good. Basically, I am excited that so many people did sign up at Urban Hennery for the challenge, and I hope they keep it going.  You know, sometimes you have scrambled eggs for dinner  or squash and a salad.  That counts, too!  And so does this week's project: sweet potato apple bake with a side of wilted winter greens.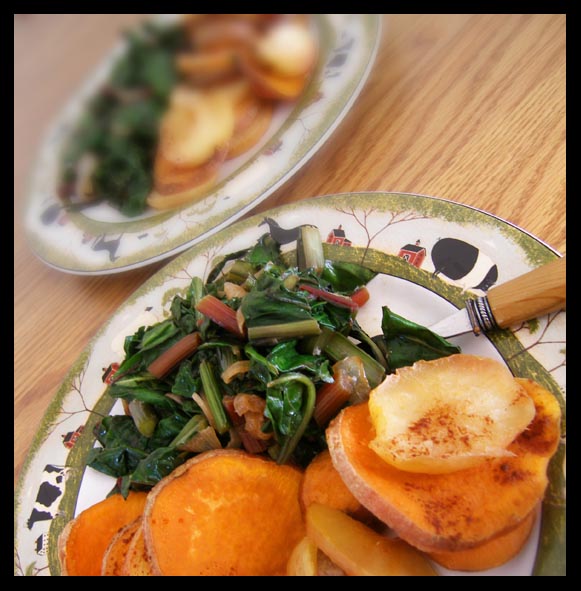 We put together something I remember fondly from my mom's holiday spreads—sweet potato apple bake—and added some of the many greens we got from our CSA share this week.  The sweet potatoes came from an earlier CSA share, plus some spares we got from Crooked Sky Farms at the farmers' market last week.  The apples came from an orchard in Willcox, Arizona, which sells their apples in three-pound bags through the nearby Whole Foods, and the oranges for the orange juice in the recipe are early Arizona beauties from our CSA as well.  The non-local ingredients were minor: spices and butter.  In short, just good, hearty food, nothing fussy.  Plus, these greens and the sweet potato bake make great additions to holiday meals.  Something to consider for those of you who will be entertaining this month.
Sweet Potato Apple Bake
Simple, sweet, and festive, both kids and adults love this dish.  Try it at your next get-together.
Ingredients (for a 13 x 9 pan, which probably won't feed as many people as you think…you may want to double this if you're planning for a crowd):
4 medium-large sweet potatoes (Sorry for the guestimates, but nothing will explode if the measurements are a little off.  If you wind up with more slices than you can fit into a pan, either make a second, smaller pan, or do what I did: steam them thoroughly and store them in the fridge so you can enjoy them in oatmeal, salads, or bread dough later in the week.)
3-4 medium apples (I used Pink Ladies)
juice from 1 large orange
cinnamon
freshly grated nutmeg
tiny pinch of salt
about 2 T pastured butter
Preheat the oven to 375.
Scrub the sweet potatoes well, but feel free to leave the skins on unless doing so offends your aesthetics.  Lots of nutrients are contained just below the skin, and it sure saves time to leave them on, which is why I usually do (especially when buying organic).  Slice the sweet potatoes into rounds about 1/4″ thick.  Then, cut the apples in half and remove the core and seeds.  Slice the apple halves into shapes as close to rounds as you can get.  (In retrospect, I think my mom cored whole apples and then cut them into rounds horizontally, so each slice was like a little doughnut.  Her way was undoubtedly more efficient, but my way wastes less apple.  Do whatever floats your boat.)
Once you have everything sliced, layer the slices in a 13×9 pan, alternating sweet potatoes with apples until you run out of space.  Then, whisk your orange juice with cinnamon and nutmeg to your heart's content, add a tiny pinch of salt, pour the mixture over the whole dish, and then strategically add a few pats of butter to the top.
Mmmm.  Butter.
Cover tightly with foil, pop it in the oven, and cook for about 45 minutes.  Once the sweet potatoes and apples are soft and smelling-oh-so-good, take the tinfoil off the dish and put it back into the oven for about 5 minutes or so.  Basically, you want the water in the orange juice to evaporate so that there is very little liquid left in the dish and everything is sweet and warm and spicy and orangey and wonderful.
Serve this as a side dish, or add a scoop of ice cream to it for a healthier holiday dessert alternative.  Vegans, consider cutting the fat altogether or use olive oil instead of butter.  This is such a simple and addictive dish—enjoy it this winter!
Still with me?  While that's in the oven, make yourself up some greens.  The slight bitterness of these greens goes very well with the carmelized onions and the sweet potato/apple combination.
Wilted Winter Greens with Caramelized Onions
Ingredients (serves 4 green-o-philes or 8 normal people):
pat of butter (about 1 T) or olive oil
1/2 one large onion, sliced
two large bunches hearty winter greens such as beet or turnip greens, chard, or kale (I used beet greens and red chard)
salt or other spices to taste (I used salt and some all-purpose ZAP seasoning from the Santa Cruz Chile and Spice Company down by Tucson)
In a large, heavy-bottomed pot (you will need the space for the raw greens—shoot big), melt the butter over low to medium heat and add the onions.  Cook the onions slowly over a low heat until they soften, then brown and become sweet, about 25 minutes or so.  Congrats! You caramelized onions!  Doesn't that sound fancy?
Meanwhile, wash and coarsely chop the greens.  The stems make good eating too, so don't compost all of them!  Once the onions are done, add the greens to the pot and turn up the heat to medium.  Stir the greens occasionally until they wilt, then add your salt and seasoning to taste.  Let everything cook down until it's still bright green, but nice and tender, and you're good to go.  Cooking the greens will probably take you 5-10 minutes.  Dish them up and enjoy!
Coming up soon: The first installment in my response to the Mercatus Food Miles paper, as well as my answers to your questions. I haven't forgotten you!  And for those of you who haven't submitted a question yet, there's still plenty of time.
3 comments