Audience, meet my Darkest Mint Stars:
And have you yet made the acquaintance of my diabetic-friendly, cinnamon-sprinkled, maple-kissed mixed nuts?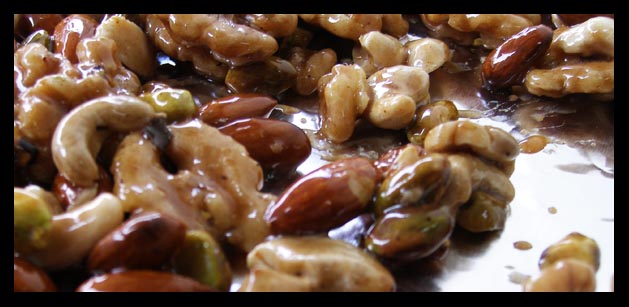 Did I mention yet how delicious December was going to be?  Mmmm…
The Darkest Mint Stars are just a slight variation on Heidi Swanson's Thin Mint recipe from Supernatural Cooking.  With 72% cocao dark chocolate in the icing and heaps of Dagoba's finest cacao powder in the cookie mix, they turned out deep, dark, and delicious.
The candied nuts are one of the easiest and fastest holiday sweets to make up, and they are completely addictive.  (Not to mention gluten-free, diabetic-friendly, and easily vegan.) Choose your favorite liquid sweeteners; I used a mix of brown rice syrup, dark agave nectar, and a splash of maple syrup. Add to a large skillet or pot, sprinkle in some spices of your choice (cinnamon, cloves, fresh nutmeg, cardamon, ginger, etc.) and a dash of salt (and a small pat of butter, if you like that sort of thing), and let it reduce to a nice, thick syrup—about 5 minutes at a boil, depending on the size of your batch.  Add nuts of your choice, and mix thoroughly to coat them.  (Aim for a ratio of about 1:6, sweetener:nuts.)  Once the liquid is basically gone, turn them out onto some aluminum foil or parchment paper.  Spread them in a single layer and let them cool completely.  Enjoy.  Over and over and over again. If there are any left (ahem), store them in a tightly sealed container.
What are your favorite sweet recipes?  Have you had success making healthier twists on old recipes?  Do you have a recipe that you'd like to see a healthy twist on?  Send it this way, and I'll see what I can do!
Until then…
Guten Apetit!
5 comments