I don't really have a good reason for calling these New Moon cookies, except that I personally think they are both novel and out of this world.  Oh, and they're round.  Like the moon.  And they're brimming with quinoa, which is also orbish.  So, they're round at several levels.  And tasty.  And that's what matters.
Oh–and they're pretty doggone healthy and easy, as cookies go.
New Moon Quinoa Coconut Cookies
This recipe will make about 2 dozen yummy cookies.  They're safe for diabetics, vegans, and they will also be suitable for some people with gluten sensitivities.  (Those with gluten sensitivities avoid wheat and wheat derivatives, but some of them also avoid oats, barley, and other "gluten grains."  I've known gluten-intolerant individuals who thrived on oats and those who preferred to avoid them.  If you're making them for someone with gluten sensitivities, check to make sure they eat oats first.)

1/2 c natural peanut butter (I used organic, chunky, salted peanut butter, which I think was a very good choice.  If you go with an unsalted nut butter, you may want to add a dash of salt to the recipe.)
1/3 c raw agave nectar
2 T freshly ground flax seeds
2 c cooked quinoa, completely cooled (Make sure this is not too wet or the cookies won't hold together.  It should be on the dry side and fluffy.  If yours is pretty saucy, make sure to cook it a bit longer to evaporate the excess water.)
1 c rolled oats
1/2 c dried, shredded, unsweetened coconut
1/4 c raw cacoa nibs (Optional, and you have to be a pretty hard core dark chocolate person to appreciate cacao nibs, I'm not going to lie.  I love them.  Also, the link is only intended to show you what I'm talking about; it's not a product plug.)
Preheat the oven on its lowest setting.  Mine was 170 degrees F.  Line two cookie sheets with parchment paper.  The parchment paper is non-negotiable.  (FYI, you could easily pull this off in a dehydrator or solar oven, if you have either.)
In a bowl, mix together the peanut butter, agave, and ground flax seeds.  Mix in the quinoa, oats, and coconut.  Fold in the cacao nibs if you're using them.  Your mixture should be pretty clumpy, as shown below.  If your quinoa was a bit on the wet side when you started, it may not want to hold together at this point.  If that's the case, toss in a bit more flax and peanut butter and see if that helps.
Next, scoop tablespoons of delicious quinoa goop onto the parchment paper and flatten them with your fingers.  Lick your fingers off.  Continue the process until you've used up or surreptitiously managed to eat the entire batch.  Make sure the cookies have decent structural integrity, as they'll dehydrate slightly in the oven and small weak spots will become bigger.  In other words, make sure they're pretty tightly formed.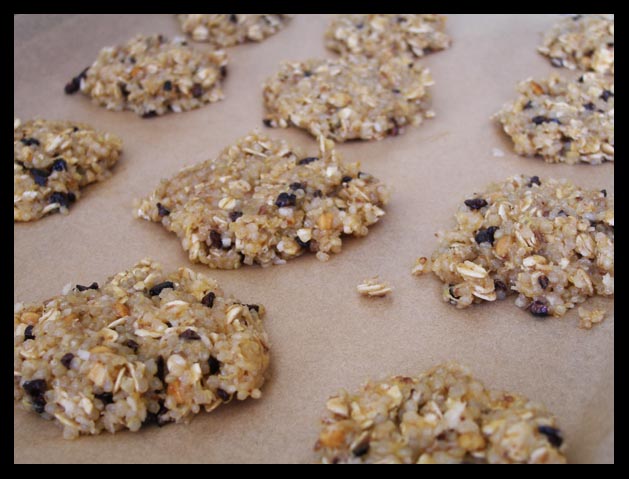 Put them in the oven and let them set up for about an hour.  Remove, and enjoy!
Make sure to store leftover cookies in the fridge and consume them within a week.  However, I think they taste best at room temperature, so you may want to let them sit out for 15 minutes before you devour them.
New Moon Quinoa Coconut Cookies make a great alternative to conventional cookies and granola bars thanks to the extra protein (quinoa and peanut butter) and the intact grains.  Pack a couple in your lunch to take to work as a snack, stick them in the kids' lunchboxes, or grab a couple for a very quick breakfast on the go.  Yes, it's true: a cookie with enough nutritional punch to stand in for breakfast.
Is this heaven?
24 comments