Laura over at Urban Hennery decided to make this week a theme week in the ongoing Dark Days of Winter local eating challenge.  Specifically, she told us all to seek out some type of local produce we had either never cooked or never eaten before, figure out what we were going to do with it, cook it up all proper-like, and devour.
I was a little nervous about the challenge.  See, as members of a CSA, farmers' market fiends, and foragers, the Unicyclist and I have eaten dandelion greens, rapini, turnips and turnip greens, squashes of all shapes and sizes, purple spinach, purple potatoes, golden beets, watermelon radishes, cactus fruit, cactus pads, mesquite pods, daikon, burdock, zucchini flowers, pansies, purple beans, teparies, tat soi, I'itois onions, bok choy, kohlrabi, and a whooooole lot more.  Frankly, although there are probably edible things growing in the Phoenix area that we haven't yet eaten, finding them might prove to be quite a task.
Fortunately, the fates smiled on us in our CSA share this week, and we got a tiny basket of sunchokes from the farm. While I've eaten sunchokes before, the Unicyclist hasn't.  Best of all, neither of us had cooked them before. Serendipitous much?  I apparently have some good karma stockpiled somewhere.  I just hope I don't use it all up on produce.
Anywho, I'm sure at least some of you are wondering what the heck a sunchoke is.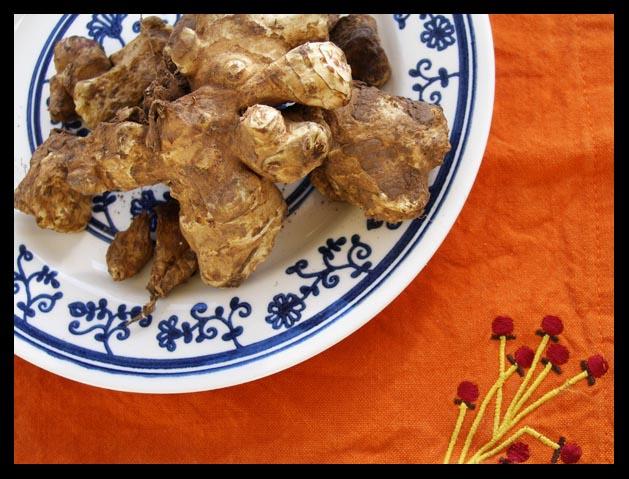 Those are sunchokes.
For starters, they're dirty.
And knobbly.
And just plain weird-looking.
Sunchokes look a bit like ginger root, for those of you who are familiar with ginger root.  However, the interior of this root is nothing like ginger.  Sunchokes (or Jerusalem artichokes) are cream-colored and smooth, earthy and nutty and sweet.  After looking for recipes and discovering a lot of recommendations for roasting them or boiling them and covering them with cream and pureeing into a soup, we decided just to do our own thing.  We had an abundance of salad greens from the CSA as well, so we settled on salad.
First, I picked out an adorable, tiny orange acorn squash which I seeded (saving the seeds to roast later), cubed, and began sautéeing in some butter.  (I didn't peel it; you can eat the skins of thin-skinned squash such as butternuts and acorns without a problem.)  Once it had started to soften, I added two tablespoons of local mesquite honey, two tablespoons of mesquite flour (from pods I had gathered from the neighborhood and milled myself before the monsoons), and a bit of water. I left it to cook down over medium-low heat until the acorn squash was candied.
Meanwhile, I minced a couple tablespoons of a shallot from the farmers' market and set that to sautée while I scrubbed and finely sliced the sunchokes.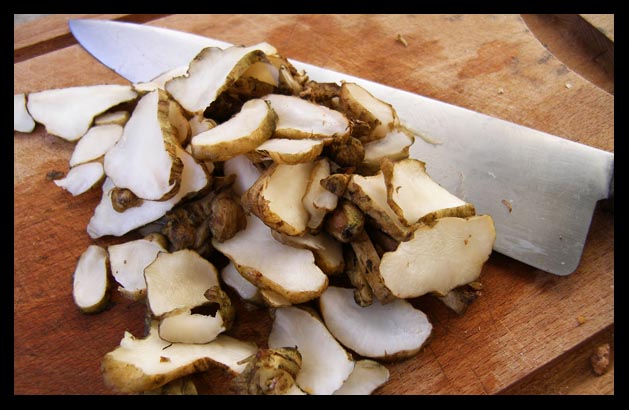 I added the sunchokes to the pan with the shallots with a pinch of salt and let everything cook over medium-low heat.
Once all the things that needed to be cooked were well on their way, I turned my attention to the raw ingredients.  The base was a bit of mixed greens as well as some red Romaine from the CSA, which I washed, chopped, and spun dry.  Then, to complement the rich and nutty cooked ingredients in the salad, I chose some bright, crispy accent ingredients, including a rib of celery, diced, and a small local Fuji apple, cored and cubed.  I decided I couldn't resist the temptation of the local dates I had bought that morning at the market, so I chopped three of those and sprinkled them over the salad-in-progress as well.
I mixed up a quick and dirty vinaigrette using flax seed oil, white wine vinegar (neither of which was local), local mesquite honey, the local shallot, the tiniest bit of marjoram from my garden, and a dash of salt.  Once the hot ingredients had cooled to just above room temperature, I added them to the salad.  Finally, I garnished it some roasted squash seeds I had made a week ago, drizzled about a tablespoon of the viniagrette over all the deliciousness, and the Unicyclist and I dug in.
This salad was a definite keeper, and the candied acorn squash could easily be a stand-alone dish some other time.  As a whole, the salad was both sweet and salty, along with a touch of bitterness from the greens.  It was also crisp and creamy, bright and earthy, and generally exceptionally well-balanced.  This salad is hearty enough to be a meal on its own, but it would go wonderfully with a creamy winter soup or perhaps a grilled sandwich.  Give it a whirl.  If you're feeding vegans, just replace the honey in the recipe with either maple syrup or agave nectar, sub the butter for olive oil, and you're golden.  For diabetics, just make sure to use agave nectar or brown rice syrup in place of the honey to lessen the impact on blood sugar.
Odd Produce Challenge Verdict: Sunchokes successful.  And how!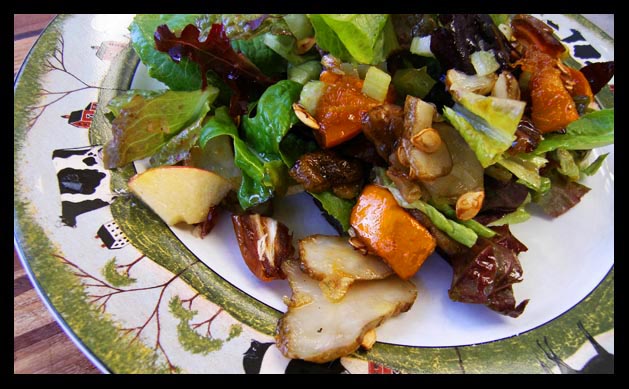 Guten Apetit, everyone.
6 comments