As I've pointed out before, processed and prepackaged foods usually have something in them you'd prefer not to be eating.  In the case of many non-dairy "milks" such as soy, rice, or almond milk, that's the seaweed-derived thickener carrageenen.  Carrageenen is interesting enough to me that I'll devote an entire post to it in the near future so you can revel in all the gory details, but for the moment I'll just say that I have not been favorably impressed with the results of the research on carrageenen.  Because our household attempts to keep dairy consumption as a pretty small part of our diet, that meant that I took some time last weekend to whip up some homemade almond milk.  It's surprisingly simple, and it does have some side benefits beyond carrageenan avoidance, as you'll see at the end of the post.
To start the basic recipe, soak 1.5 c almonds in a jar of water overnight.  This makes the blending process much easier.  I had three jars going because I planned to make regular, chocolate, and coconut almond milk varieties.  (I know….yum!)  I set mine to soak in the morning, then tucked them in the fridge when I went to bed for the night.
The next morning, discard the soaking water (it tastes somewhat bitter—not very tasty), rinse the almonds, and put them in a blender along with 4 cups of water.  (You can easily go up to 5 cups of water if you like to make it stretch, but I recommend trying it with four first and then thinning it more if necessary.)  Blend it thoroughly while you line a sieve with a few layers of fine cheesecloth, then place the lined sieve in a bowl that leaves plenty of space for the milk to drain below.  (I actually use an undyed pillowcase in a sieve for this, which works great, but cheesecloth is just fine and a coffee filter will do in a pinch.)  Pour the almond milk into the lined sieve and then leave it sit to drain while you frolic, watch a movie, work, play with the kids, or save the world as necessary.
Once it's pretty much drained, gather up the cheesecloth or pillowcase and squeeze it firmly to remove the remaining liquid.  It's okay to get pretty aggressive here, particularly if you are using a sturdy bit of fabric like a pillowcase.  You want to maximize the almond milk and also make sure the leftover meal is pretty dry.  Set the almond meal aside and put the almond milk back in the blender.
Add a pinch of sea salt, 1/4 tsp of vanilla extract, and 1-2 T agave nectar (depending on your sweetness preference).  Give it a whir in the blender to mix.  At this point, add more water to your milk if you prefer.  Ta-da!  You have almond milk!
Almond Milk Three Ways
Basic Recipe (makes a quart jar of almond milk)
1.5 c raw almonds (NOT roasted or salted), soaked overnight
4-5 cups water
1/4 tsp vanilla extract
1-2 T agave nectar or honey
dash of sea salt (the salt does make a difference, really)
Blend and strain according to the instructions above.  Refrigerate after making and consume within a week.
To make coconut almond milk, add 1/2 cup dried, shredded coconut to the soaked almonds and 4-5 cups water.  (I tried soaking the coconut with the almonds, but I think it took on the bitterness of the almond water.  You'll get a clearer coconut flavor if you don't soak, I suspect.)
To make chocolate almond milk, add 4 T of good quality cocoa powder (such as Dagoba), increase the agave nectar to 4 T total, and increase the vanilla extract to 1/2 tsp.  (By the way, this was, in my opinion, way better than regular chocolate milk.  So tasty…make sure to get the good chocolate and the good salt!)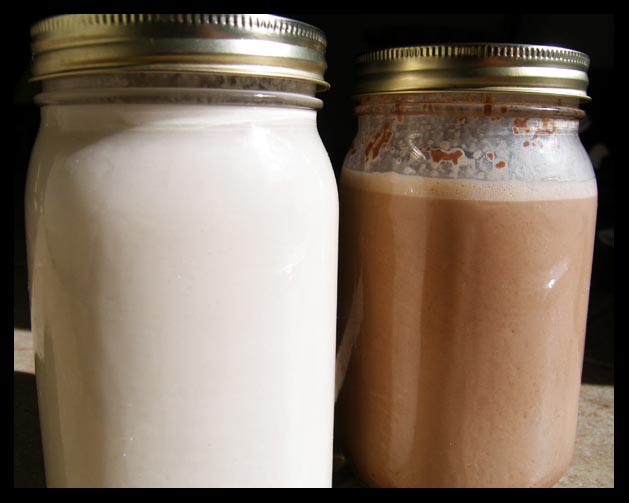 Now, what to do with all that almond meal?  Honestly, there are loads of possibilities.  Toss it in a smoothie, use it as a base for raw food cookies, add it to a batch of granola, or whatever else you can dream up.  I added a half cup of it to a loaf of bread in place of flax meal, and I used the majority of it for some tasty weekend cinnamon rolls.  Those cinnamon rolls are actually worth talking about.  Let's talk about them!
I used a basic cinnamon roll recipe from The Horn of the Moon cookbook, but instead of stuffing them with nuts, butter, cinnamon, and sugar, I made a tasty spread out of the almond meal.  By mixing it with some maple syrup, agave nectar, vanilla, almond extract, cinnamon, and salt, it was transformed into something distinctly delicious.
I made a double batch.  We cooked up one set and carted them, still warm, to the neighbors.  The second half was rolled out, filled, rolled up, and popped raw into the freezer to enjoy later.  Raw cinnamon roll dough works wonderfully for freezing; just this morning, I sliced off two pieces with a serrated knife, let them thaw while we got dressed and took Hippo out, then popped them in the toaster oven to cook.  Fresh-baked cinnamon rolls on a workday!  Huzzah!  And delightful with a mug of hot chocolate almond milk, I might add.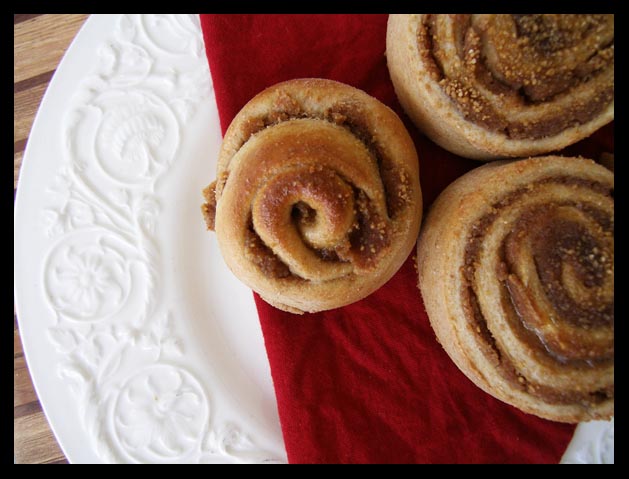 And that's the scoop on almond milk.  Easy, delicious, carrageenan-free, and with the side benefits of cinnamon almond rolls and improved neighbor relations.
Not a bad deal.
21 comments