The Unicyclist and I didn't get much in the way of fresh produce last week from our CSA share with Crooked Sky Farms.  The farm is not to blame, however.  The Unicyclist was on veggie pickup duty, and he managed to barter and swap our citrus and one set of greens for an important storage items for us: wheat berries!  The Unicyclist knows what's up, which is why we now have three small baggies of wheat berries to make into flour and expand our local cooking possibilities.
I love the Unicyclist.  Not just for his bartering skillz, but those don't hurt.
In any case, since he managed to barter some of our fresher goods for other people's wheat berries, we decided we'd better make a stop by Crooked Sky's booth at the Ahwatukee farmers' market this morning to ensure we'd have enough produce to see us through until the coming Thursday.  I am awfully glad we went, because that's where we discovered this beauty.
That, gentle readers, is Orange Cauliflower.
(I thought it merited the caps.  Don't you?)
Isn't it stunning?  Apparently, commercial Orange Cauliflower is a hybrid between a non-engineered mutant orange cauliflower and the standard whites.  It's also a bit sweeter, a lot higher in beta carotene, and much more striking than its pallid (but also delicious) cousin.
I had to have it.
To be fair, plants in general fascinate me.  Edible ones obviously have an additional attraction.  The orange cauliflower went into the bag, along with broccoli, eggplants, onion, garlic, spinach, and salad greens, plus a handful of saucing tomatoes from McClendon's Farm.  Yes, it's that whole "warm climate" thing again. The tomatoes are greenhouse grown this time of year, but everything else is not.  I should actually post an update of our own patio garden sometime soon so you can see what's happening at our house in January.  I'll get on that.
I decided to cook up something simple which would preserve the color of the cauliflower, eventually whipping up two different dishes to make sure we got both our greens and our proteins.  First up, I heated some amazing basil pesto-infused grapeseed oil from the fantastic Wildtree gift box my mom got me for Christmas, then I quickly sautéed I'itois onions along with steamed eggplant, the cauliflower, and the cauliflower leaves (yep, the leaves are both edible and tasty).  I reserved some garden parsley and basil to toss in at the end.
Meanwhile, I combined native brown and white tepary beans (from the Guadalupe farmer's market) in a saucepan with some sage and parsley from my garden, ZAP seasoning from the Santa Cruz Chili and Spice company near Tucson, a couple of the saucing tomatoes I had picked up that morning, two small CSA red potatoes (cubed and boiled), and the very last of some neglected frozen peas (not local).
It was quick, it was filling, it was good, and it looked pretty. (The picture below doesn't do it justice.)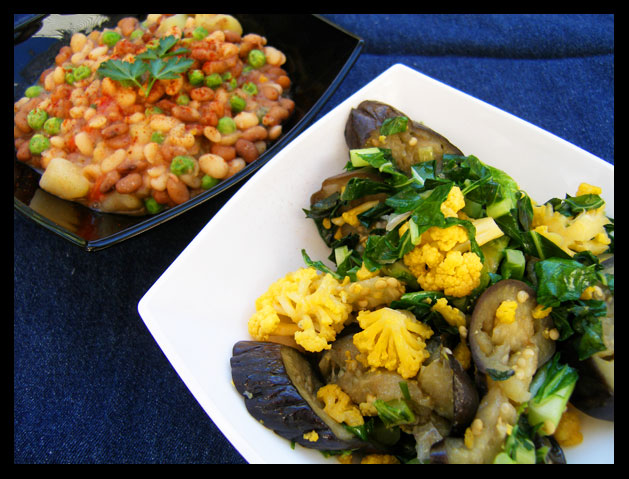 I still have half a head of the cauliflower remaining.  Part of me wants to snack on it raw for the next few days (I do love raw cauliflower, and this one is so pretty), but another part of me is imagining what a gorgeous soup it would make.
Such decisions.
Although I am a little sad that we didn't get any more sunchokes this week, the Orange Cauliflower made up for that.  Even better, it has ensured that January still fits very well with the theme of "new-to-us" foods for this month's Dark Days of Winter Challenge over at Urban Hennery.
Huzzah!
8 comments