Despite all the press about salmonella, I have to say it:
I do love me some peanut butter.
To celebrate my salmonella-free jar of peanut butter bliss, I am posting my all-time favorite peanut butter cookie recipe.  It's all-natural, but it's not likely to help you lose weight, if that's what you're looking for.  It does, however, make a very delicious cookie.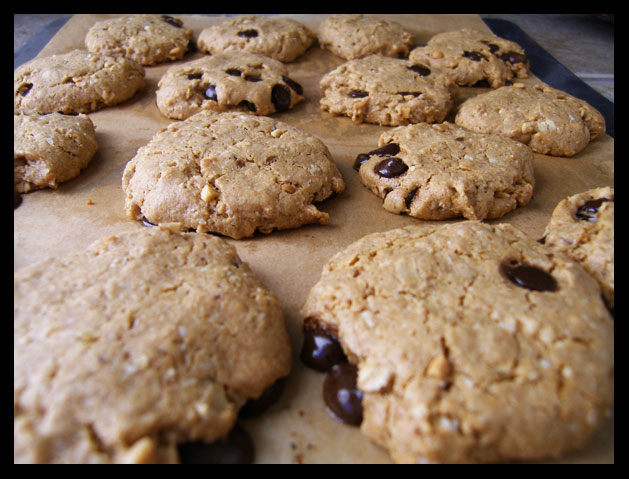 Eat some cookies.  Move your body doing something you love, like cycling, snowshoeing, visiting a rock gym, sledding with the kids, taking the dog out, or shooting hoops.  Call it even, and love your life.  (Simple, right?)
My Vegan Peanut Butter Cookies
I love this mildly sweet, chewy cookie.  Eggs are replaced with flax, and butter gives way to peanut butter and vegetable oils.  The crunch from the chunky peanut butter and the added texture of the coconut satisfy my chomping urges.   These particular cookies are especially delicious when laden with carob chips.  If you're a carob-phobe, don't be.  Probably the biggest mistake people make is attempting to establish carob as a chocolate substitute.  It's not.  It tastes nothing like chocolate.  If you walk into it knowing that, you might just love it.  I do. If you're not willing to take the plunge, try chocolate chips or go chipless.
Ingredients: (Makes about 4 dozen)
2 T fresh-ground flax, combined with 6 T lukewarm water
1/2 c unrefined sugar such as rapadura or sucanat
1/2 c vegetable oil, such as sunflower (If you want to cut calories for some crazy reason, substitute unsweetened applesauce for part or all of the oil.  It will make a more cake-like cookie, but it's tasty as well.)
3/4 c liquid sweeteners (I used a scant 1/3 c brown rice syrup, 1/3 c dark agave nectar, and a splash of maple syrup to top it off, as I don't like overly sweet baked goods, but you could go straight agave here with no problem…be careful if you're using larger amounts of maple syrup or honey in your mixture, as they are quite sweet)
1 c natural, unsalted chunky peanut butter
1 tsp pure vanilla extract
2.5 c whole wheat pastry flour
1.5 tsp baking soda
1/2 tsp salt
heaping cup of rolled oats
1/2 cup unsweetened, dried, shredded coconut
1 c carob or chocolate chips (optional)
2 T carob or mesquite flour (optional, but I think it really adds something nice)
Preheat the oven to 350° F and line two baking sheets with parchment paper.
Combine the flax/water mixture with the rapadura and oil, and beat well.  Add the liquid sweetener(s) and the vanilla and mix well, then beat in the peanut butter.  In a separate bowl, combine the flour, baking soda, salt, and the carob powder or mesquite meal, if using.
Add the dry ingredients to the wet ones in 3 increments, stirring just until mixed.  Finally, mix in the oats, coconut, and carob chips by hand.  Don't overmix, or your cookies will be tough.
Your dough will be pretty stiff, but somewhat sticky.  Roll it into balls about 1″ in diameter, place each one on a baking sheet, and flatten it using your fingers or a fork.  They won't spread too much, so it's okay to get them reasonably close.  Pop them in the oven and let them bake for 10-12 minutes.  Don't overbake them.  It's easy to do.  To avoid drying them out, peek at the bottom of one cookie at the 10-minute mark.  If it's golden, it's done.  Transfer the cookies to a wire rack and let them cool before enjoying.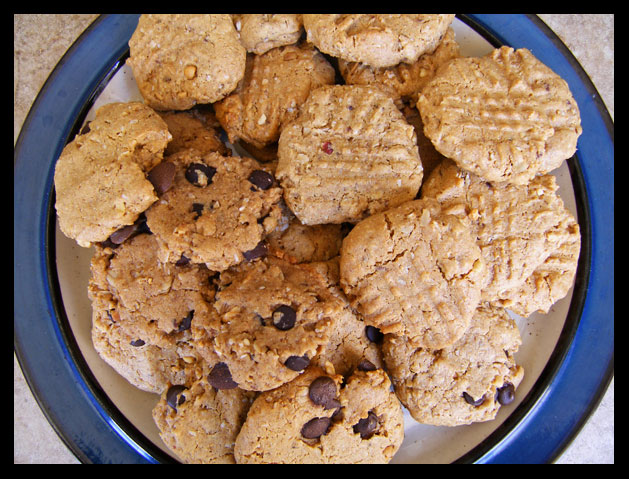 Somehow, these cookies taste richer after they've sat.  I don't know why, but a fresh-out-of-the-oven version can't hold a candle to one that's sat for a few hours, or a day or two.  They also freeze very well (in fact, freezing seems to have actually improved the texture of this overmixed last batch), so don't be afraid to bag 'em and keep 'em for future cookie shortages!
Guten Apetit!
2 comments