Belatedly, due to the constant rush around here these days, I present our featured Dark Days dish: breakfast tacos.
Oh, wait.  Those are kumquats.  We had some of those for breakfast, too.  Seeing as how this was the last day of the Dark Days 08-09 Challenge, we decided to hit the nearby Sunday farmers' market and see what goodies were for grabs.  I couldn't pass up these beautiful, sweet, tangy little citrus fruits.  Nor could I stop eating them.  A day later, they were all gone.  As was the bag of blood oranges, which we turned into a delicious and dramatically-hued juice.  But anyway—breakfast tacos.  I know I have that picture here somewhere…  Ah-ha!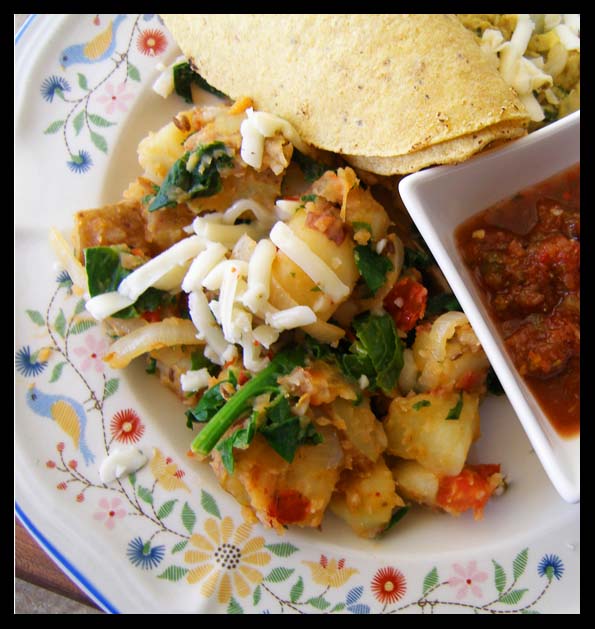 They consisted of spiced potatoes served with eggs scrambled with cumin, onion, and cilantro.  Be honest…Have you noticed that we do a lot of Mexican 'round these parts?  It's true.  In part, that's maybe a consequence of living in the Southwest, but it's certainly also a consequence of the fact that Mexican food is delicious.  These breakfast tacos are, as they should be, most yummy, but they are also simple.  They're so simple, in fact, that they don't require a recipe.  Just go wild! We used our finds from the farmers' market: red potatoes, fresh cilantro, onion, the first tomatoes of the season, pepperjack cheese, and spinach.  Here's the general gist of what we did to make those very yummy potatoes.
I scrubbed, cubed, and boiled four or five red potatoes until barely fork tender, then drained them immediately.  Meanwhile, I heated a bit of oil in a pot and sauteed a a whole onion, a teaspoon or so of whole cumin seeds, and a bit of crushed red pepper or cayenne powder over low-medium heat until the onion was soft.  I then turned up the heat to medium and added a chopped tomato, cooking until that was soft.  I added the potatoes, some salt and pepper to taste, and a bunch of coarsely chopped spinach leaves and cooked just until wilted.  Finally, I tossed it with a handful of chopped cilantro, loaded some pepperjack on it, and served it up alongside eggs, salsa, and corn tortillas.
Reflections on Dark Days to follow, along with a Big, Important Update for you.  ¡Hasta pronto, y buen provecho!
6 comments