For several weeks, I have been ignoring the elephant in the room—at least as far as this blog is concerned. And by "elephant," of course, I mean "dog."  And by "dog," of course, I mean Hippo.
But readers have been asking.  It turns out (not surprisingly) that no one wants to read about kumquats when everyone knows perfectly well that I could be posting dozens of cute puppy pictures.  Faithful readers, I will deprive you no longer.

First, the truth:
Hippo is gone.
That's really a good thing, however. You see, so much has happened since Christmas.
In the approximately 10 weeks he was with us, Mr Hippo learned a great many things.  He learned that it's fun to chase both crickets and garbanzo beans.  He learned how to potty outside, in front of us, without having a literal panic attack.  He learned that it's rude to jump on people or bark at them while on a walk, but he wasn't always concerned with manners.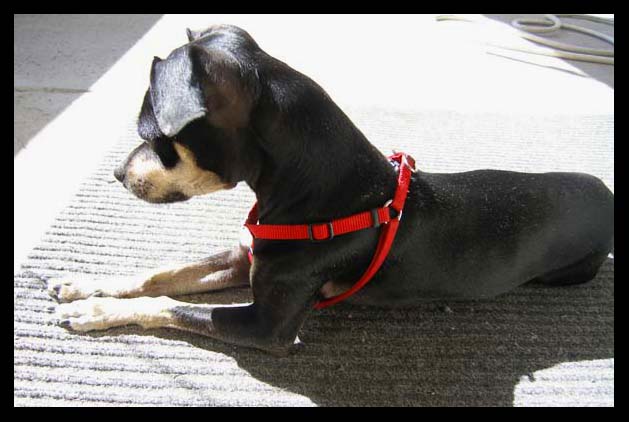 He learned that the vet is a fun place where you get lots of goodies.  He learned that he hates riding in a bicycle trailer…or maybe I misunderstood, and he was just trying to replicate the "whoooo-oooo-oooos" he learned came out of the car radio when we went places that way.  He learned that if you eat Laurie's houseplants one day, she'll decorate the remaining leaves of your intended houseplant salad with crushed red pepper the next day.
He also learned a few tricks: "lie down," "wait," and—his specialty—"up."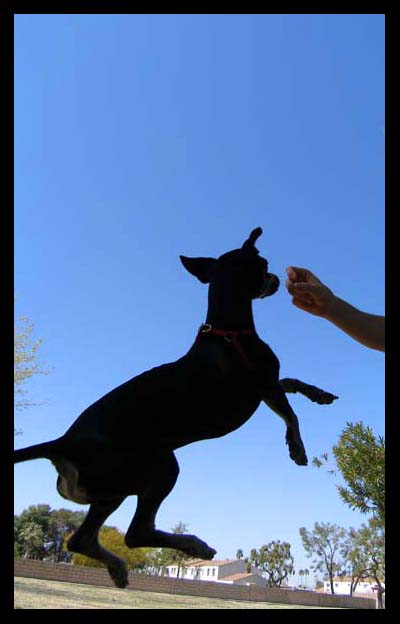 And we learned a few things, too.  We learned how incredibly easy it is to let your heart become entangled with an animal like Hippo—one who needs you, trusts you, and loves you.  We learned that having another living creature full of emotions and silliness and love in our house changed our house for the better.
We also learned that Hippo hated being left alone.
We learned that he desperately missed living with other dogs, and he wanted a doggie friend very, very much.  When we went on walks, he was frantic to meet all other dogs, and he cried piteously when they left.  We learned that even with two people who loved him, Hippo was lonely.
And so, with me about to start a new job that would leave Hippo alone most of the time, we began looking for another home for Hippo.  A forever home.  Ideally, one with someone there most of the time and some small animals to play and snuggle with.
We looked for a month.
We found nothing.
And then, one day, a woman called.  She had seen Hippo on Petfinder, and she wanted very much to meet him and hopefully add him to her family.  You see, they had a little miniature pinscher named Checkers, and she could use some company.
I warned her about his tendency to chew houseplants.  I told her he put all sorts of non-food items in his mouth while on walks.  I mentioned his singing voice.  She laughed and said he sounded a lot like Checkers.
I also told her how much he loved to snuggle.  I told her the story of how we rescued him on the eve of Christmas Eve.  I told her that he liked to burrow in blankets so deeply that he couldn't always get out in the morning, and he'd come stumbling into the kitchen reduced to a wad of blankets on skinny legs: the Blanket Monster.  I told her he had a gentle heart and that, like Ferdinand the bull from the children's book, Hippo was content to stand in a field and literally eat flowers.  When we took him on walks, he loved to stand in a patch of dandelions and eat them all, one by one.
She wanted to make him part of her family.
And so we met her, her husband, and her nine-year-old son.  We learned about who they were and what kind of home they were offering Hippo.
It turns out that they were offering Hippo a doggie paradise.  There was a backyard with actual grass.  There were two walks a day.  There was a little doggie to play and snuggle with, plus a kitty.  There was a sweet and gentle boy to love, plus two caring doggie parents.  There was someone home all day—someone whose creative home-based business involved making beautiful boutique doggie beds that Hippo could test drive.
And they all watched The Dog Whisperer.
This was the point at which I felt sure that someone else could provide a better home for Hippo than we could.  We loved him, and I believe we and our quiet, predictable household were exactly what he needed at the time.  Still, he had outgrown us.  He was ready for the next step.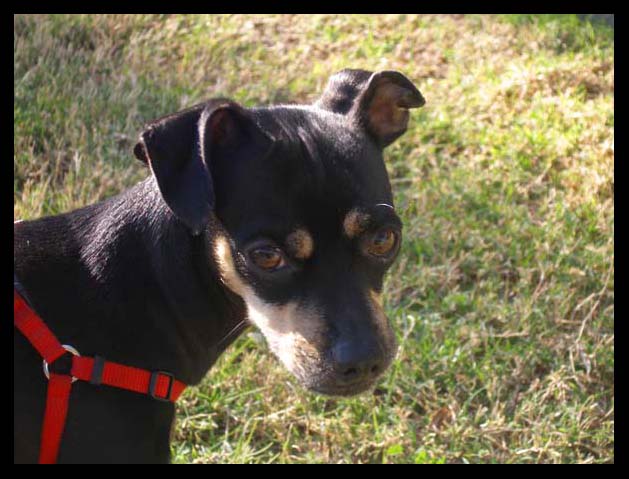 This past Sunday, the same day her family met Hippo, they filled out the paperwork at Maricopa County and he officially became part of their family.
I'm not going to lie—I have cried.  More than once.  But I'm never crying for Hippo.  He's got it made.  His new mommy sends updates, which are so wonderful to read:  Checkers taught Hippo how much fun it is to bark at the golfers.  Hippo licked the cat's ears repeatedly on being introduced.  Hippo follows her son from room to room like a shadow.  Hippo and Checkers have a new game.  Hippo and Checkers are joined at the hip.
Hippo has found his happily-ever-after. Meanwhile, the Unicyclist and I feel like parents who have just shipped our only child off to college. We know it's good for him. We know he'll be great. But we do miss him so.
And that, my friends, is the long-awaited Hippo update.
8 comments