If you didn't know where to look, you could drive past it every day and never know it was there. Yet sandwiched between the interstate and some industrial storage lots in Phoenix, hidden from the view of the endless stream of commuters, farmer Frank Martin and his crew have created an oasis in the desert.
Last Sunday, Crooked Sky Farms hosted a farm day for its CSA members, inviting us to come out to the farm, learn how it was run, pull our own carrots from the ground, clip the last of the salad greens and the first tender artichokes, and meet the people who made it all happen.
Which is why, today, I'd like to introduce you all to the man responsible for my beautiful sunset-colored carrots.  Everyone, meet Farmer Frank.
This Crooked Sky oasis is something unique and valuable in both the literal desert—the Sonoran Desert which surrounds Phoenix—as well as in the metaphorical food deserts common in so many urban areas.  It is both a miracle and an anomaly, a curiosity certain to get you wondering: just who would try to farm in the heavy, clay-like soil and scorching summers here?  Listening to Frank Martin speak, however, one quickly gets the sense that a farm in the heart of one of the largest cities in the nation was a natural path for a man so in love with growing things.  Above, you can see Frank enthusing about his favorite plant to grow, the I'itoi onion.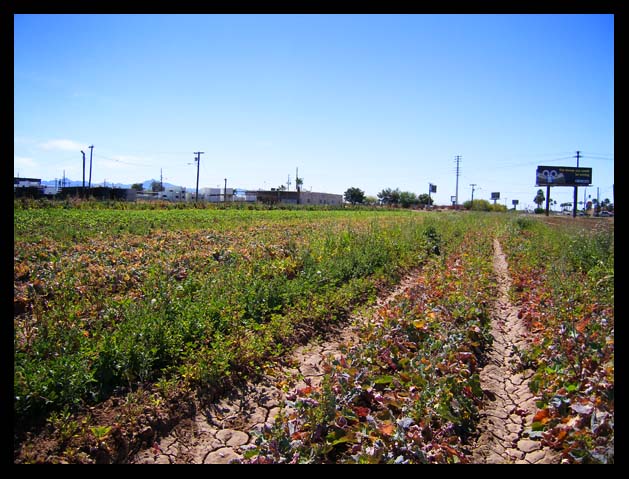 Frank enthuses about many things: about how Crooked Sky managed on only about 40% of its water allotment last year, about the amazing varieties of corn he has planted this year, about the established citrus grove he just acquired which features white grapefruit, a rare gem nowadays. We stand in between rows of brilliant sweet peas, fiery nasturtiums, and lavender statis while he mentions that sometimes, in the mornings, he just has to go outside and look at the giant yellow squash blossoms, open to the early sun.
This is work that Frank enjoys.
He's eager to share it with us.  As we explore the fields and listen to him talk, the farm staff prepares a staggeringly delicious lunch for us of beans, Mexican-style potatoes, homemade salsa, soft, warm tortillas, and eggs scrambled with farm onions and greens.  Eventually, the smell will call us back to the tents set up in the fields, but for now, we wander among the rows.  We admire a diverse assortment of potatoes, cabbage, chard, beets, turnips, radishes, salad greens, corn, hothouses of basil, and a field of red durham wheat, the source of several loaves of bread and focaccia at our house.
Frank explains how in his philosophy, everything has a place, from the plants to the pests.  He has figured out that keeping the birds away from some of his delicate crops is mostly a matter of being willing to mow down a row of wheat for them to feast on.  Some twenty stray cats keep the rodent population in check.  And when the aphids start to get bad, sucking the juices from cold weather crops wilting in the warming sun, that's about when the arugula blooms, attracting ladybugs and their voracious nymphs to check the population before it spreads out of control.  If you just work to make sure your plants are as healthy as they can be, he says, it all basically works itself out.
Today, however, Frank has invited us to appreciate a plant that is just coming into its prime. Early into our visit, he calls us over to a prehistoric-looking forest.
We are given small, curved knives and set on our mission. We wander through sprawling rows of ferny, spiky silver-green plants in search of treasure. In search of…these spring beauties.
Come to mama, you gorgeous artichoke, you.
Here, the Unicyclist is cutting off a delicious, tender artichoke for our harvest. We gather several, place them in a bag we will later fill with greens, turnips, carrots, and onions.  Then, we join the others for the lunch feast.
That evening, when the Unicyclist and I are back at home and our stomachs start to growl again, we slice and blanch and marinate and grill a dozen 'chokes. We devour them, fingers messy, stomachs content. They taste of green things, of sun, of the soil there.  They are incredible.
The farm day was fantastic, and we can't wait for the next one, which is set to take place when we can harvest corn.  The thing is, once you understand Farmer Frank's enthusiasm for squash blossoms and clusters of I'itoi onions, it's impossible not to be infected by it.  As he talks about what makes specific vegetables his favorites, you can actually watch smiles bloom all throughout his audience.  Suddenly, the carrots and chard have new significance.  Suddenly, everything takes on new light and life.  And suddenly, a powerful desire grows to protect this patch of land so families can continue to feast off it, and so that Farmer Frank himself—or any one of us—will always have somewhere to go to watch star-shaped squash blossoms open in early morning.
Welcome to Crooked Sky Farms.
5 comments