Lurking in our fridge, buried deep in the crisper, huddled between bags of salad greens, you will find them.  Or at least you would have up until yesterday.
Several weeks' worth of root vegetables had very nearly taken over our fridge.  Between the farm visit and our regular CSA pickup, our stash had grown significantly without us really noticing.  When we did finally realize we were outnumbered six to one by turnips, it was touch and go for a while there. Fortunately, we are stout and hardy folk, and we managed to quell the veggie uprising with some seriously dedicated roasting this weekend.  I scrubbed, sliced, cubed, and roasted three pans worth of turnips, sweet potatoes, beets, and carrots.  It was all delicious, but I confess that I really fell hopelessly in love with the carrots. These are the carrots I had wanted to make a couple weeks ago but had to forego due to my undersized dill plants. However, it's been in the 80s and 90s here, and I have been a faithful hydrator. This weekend, my patience was rewarded.
Not only were these carrots gorgeous, but did you catch the part where I mentioned there was dill involved?  And lemon.  And garlic. Holy yum.
It was a beautiful thing.  It was so beautiful, in fact, that I'm sharing it with you.  Without further ado, here is a recipe for some Dang Fine Carrots.  You can eat them hot, cold, or tossed on top of a salad.  Whichever way you eat them, I hope they make your eyes roll back in your head with delight and your toes curl with bliss. Best of all, it's one of those simple, non-recipes that don't require you to blow any gaskets about measuring.  The basics are here—you just work with those!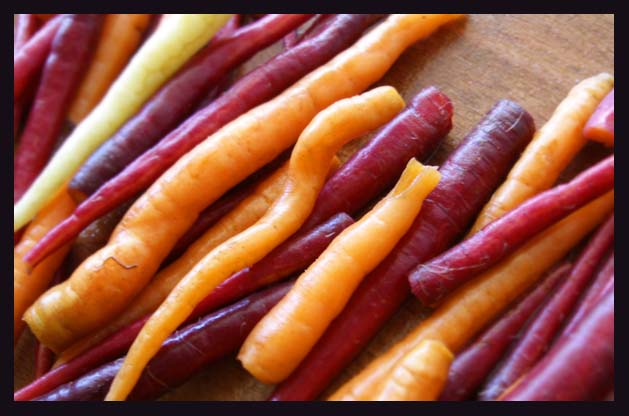 Garlic-Dill Roasted Carrots
Ingredients:
two bunches of carrots, tops clipped, and well-scrubbed  (I don't peel, because there's no need and it saves me a lot of time, but I hereby grant you permission to peel or not peel as your conscience dictates.  I also had fairly fine and delicate carrots, so I only halved two of them and didn't need to quarter any of them to cook them through.  If you are dealing with mammoth carrots, please make sure you do any sensible knife-work to roast these in a timely fashion.)
1 large clove garlic
olive oil or grapeseed oil (about 1-2 tsp)
salt
zest from one lemon
juice of 1/4-1/2 lemon
a smallish bunch fresh dill
Preheat your oven to 350º F. Finely mince the garlic.  Toss your carrots in a baking pan with a drizzle of oil, the garlic, the lemon zest, and a nice sprinkle of salt (you can always add more salt later, so don't go nuts).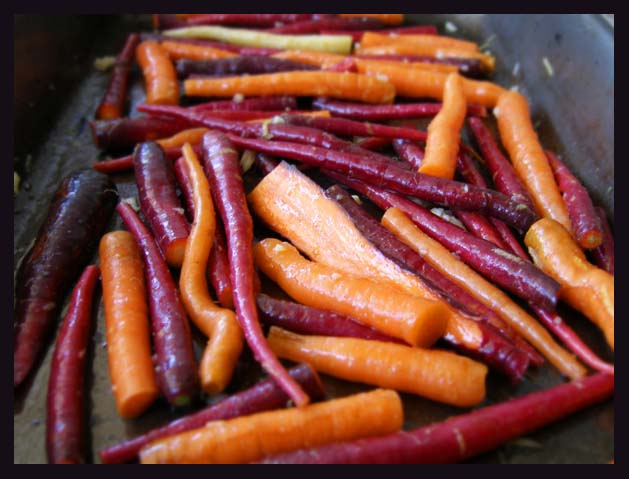 Roast until fork-tender, stirring once or twice to keep the garlic from sticking and to help the carrots roast evenly.  This took about 25 minutes for me, but remember, my carrots were all pretty slender.  Trust your fork.  And your mouth.  Taste-testing is always a good idea.
Once you have removed the carrots from the oven, squeeze 1/4 the lemon over the carrots and stir them around to spread the love.  Then, chop up some dill (go heavy if you like the dill, ease off if you don't) and add about 2/3 of it to the carrots, mixing again.  Transfer the carrots to a serving plate (making sure you scrape up all the yummy garlic bits from the pan), sprinkle with the remaining fresh dill for garnish, adjust the salt and lemon if necessary, and devour!
I don't know why these were so addictive for me, but they were.  Then again, I have a serious affinity for dill.  It's so delicately shaped and intensely flavored, so green and savory and…
…'scuse me.  I think I need to go see if any of those carrots are left. 
Guten Apetit!
4 comments