Archive for August, 2009
At the end of July, the Unicyclist and I went to Colorado for my cousin's wedding. It was a gorgeous affair at an amazing location near Pine. Best of all, we were lucky enough to stick around the state for a week afterward to enjoy the mountains and rivers of Colorado…and its small towns and giant cities.
And there was food. Did I mention the food? Post-wedding, our first big adventure was at Denver's The Oven. It's owned by the amazing Mark Tarbell, who is responsible for our favorite spot here in Phoenix as well: the eponymous Tarbell's.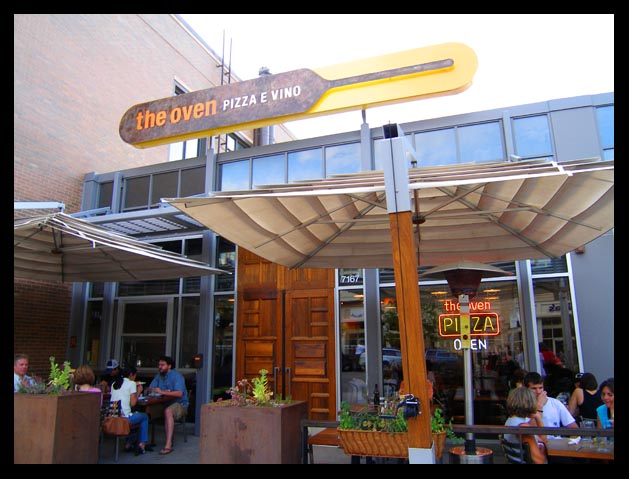 Of course, since the week was a family fest, we had a party of great aunties and moms and dads along for the feast, which was perfect for the laid-back atmosphere of the place. The house-made mozzarella was delicious, the focaccia amazing, the variety of spreads tangy and savory and rich. And the pizzas, of course, were perfection. The company was the best part, especially with the long wooden tables and shared dishes. The staff even comped us dessert when they found out we'd stopped in as fans of the Phoenix restaurant. If you're ever fortunate enough to come across anything Mark Tarbell has had a hand in cooking, pull up a chair and tuck in. That's all I have to say about that.
3 comments
As the steaming asphalt may have reminded you, it's still summer. Perhaps, like me, you've recently spent some time thinking about how much people seem to do in the summer. They get married and go on trips, they light sparklers and host cookouts, they move houses and have reunions with gaggles of relatives. And, despite all my odd-duck tendencies, I am pretty normal in that respect.
I have been hard to catch lately in part due to work, but equally due to play. The past six weeks have been peppered with jaunts to Michigan, the Coconino National Forest, Colorado, and the Petrified Forest. The sights were stunning, and there was plenty of good eating. I'm going to try to get you caught up on the eats and the sights this week.
I'm going to start small: Prescott. Only a brief jaunt away, it was a great escape to higher elevation and cooler climes on Fourth of July weekend. We camped under pine trees and spent a day hiking just before the rains came and soaked the town.
The Unicyclist, as you can see, was working his mid-project mountain man look. Since then, his project has been completed and released, and the Unicyclist has been shaved and shorn. The Great Circle of Life or something, I'm sure. Here, you can see Mountain Man trying out his mini-binoculars, seeing something cool and many-legged, no doubt.
1 comment