As the steaming asphalt may have reminded you, it's still summer. Perhaps, like me, you've recently spent some time thinking about how much people seem to do in the summer. They get married and go on trips, they light sparklers and host cookouts, they move houses and have reunions with gaggles of relatives. And, despite all my odd-duck tendencies, I am pretty normal in that respect.
I have been hard to catch lately in part due to work, but equally due to play. The past six weeks have been peppered with jaunts to Michigan, the Coconino National Forest, Colorado, and the Petrified Forest. The sights were stunning, and there was plenty of good eating. I'm going to try to get you caught up on the eats and the sights this week.
I'm going to start small: Prescott. Only a brief jaunt away, it was a great escape to higher elevation and cooler climes on Fourth of July weekend. We camped under pine trees and spent a day hiking just before the rains came and soaked the town.
The Unicyclist, as you can see, was working his mid-project mountain man look. Since then, his project has been completed and released, and the Unicyclist has been shaved and shorn. The Great Circle of Life or something, I'm sure. Here, you can see Mountain Man trying out his mini-binoculars, seeing something cool and many-legged, no doubt.
Prescott wasn't much in the way of delicious eats, however. The downtown was packed for Rodeo Days, so we picked the least crowded establishment. Unfortunately, that meant our Prescott lunch was greasy and forgettable. Thank heavens for the breakfast cookies and hummus that saw us through the previous night. On the plus side, the fauna was definitely fun. Think horned lizards and blue hitchhiker bugs.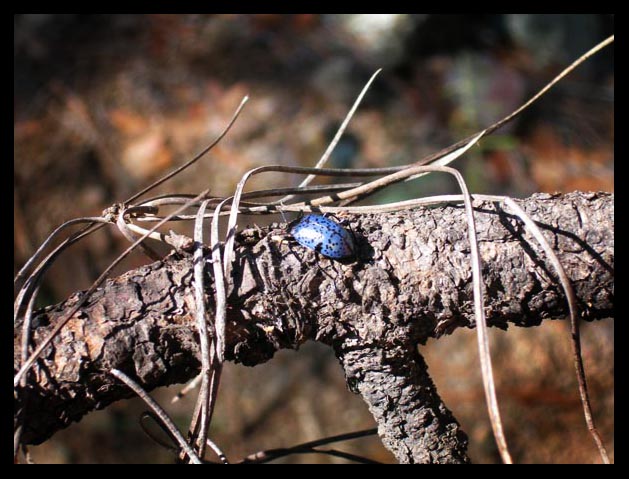 I don't know the real name for these sky-blue beetles; I just know they found their way to us, one after another, grabbing on to our sleeves, our backpacks, our pant legs as we skidded and scrambled down the mountain. They were some of the prettiest beetles I've seen.
But enough about beetles. Next post, I will give you the skinny on a much more food-focused adventure in the high country: the mile-high family extravaganza in Denver at the end of July. There were Norwegian great-aunts, piles of classic lefse, an amazing pizza place downtown, rustic small-town ice cream, and an incredibly addictive variety of Pikes Peak chocolate. I will learn to reproduce that chocolate or die in the attempt.
Yes, it was that good. Stay tuned for the next installment!
1 comment