The trees are heavy with apples, the raspberry canes are fading, and the fragrant bushes of basil we enjoyed all summer were sacrificed to the first frosts this past week.
Despite the summery temperatures of the last couple days here in Wisconsin, autumn has arrived. Even though it's sunny out, the light has a different quality to it. Filtered through leaves of gold and rust, it's thinner, paler.
It's the time of year when steaming bowls of soup seem perfect, and the smell of fresh bread and cinnamon warms you far beyond the ability that another sweater possesses. It's the time of year when the folks in our household start craving baked squashes and the rich texture of pumpkin in casseroles, risotto, muffins, and cakes. As the sunlight grows loses its muscle and the days shorter, the golden and orange colors grow more and more appealing. Our household is no exception. Specifically, I have been given orders from mum to get going on the pumpkin goods and to keep 'em coming until I hear otherwise. Based on last year, I might hear otherwise sometime in April.
And I might not.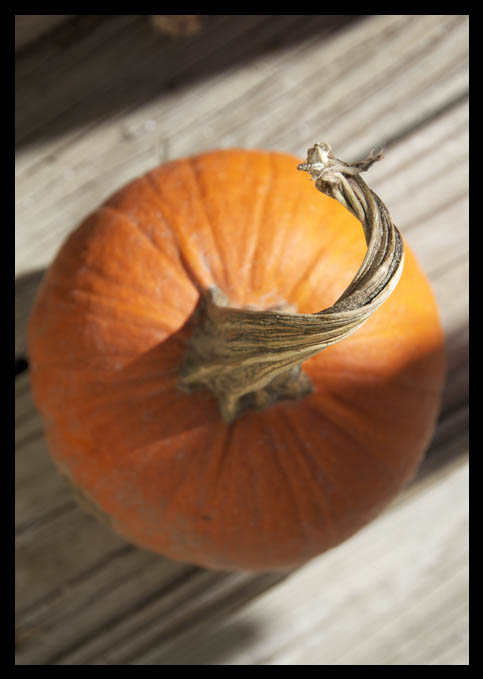 My mom has diabetes, so finding a way to create pumpkin baked goods that actually taste amazing without causing a crazy blood sugar spike has involved some trial and error. At this point, we have a couple keepers: spiced pumpkin cake and mom's own agave-sweetened pumpkin pie. Both of them use raw agave nectar instead of sugar. I'll get to the recipe for this pumpkin cake in a moment, but I figure some of you might like some background on agave nectar first.
What's the scoop on agave? Agaves are succulents that grow in beautiful rosette shapes. They are native to the Americas and are something of a miracle plant, ethnobotanically-speaking. Agaves are a source of food, fiber, and tools, but I'll spare you my plant geek-out gush that topic for now. Suffice it to say, I have a special place in my heart for the agave, and I brought a beautiful one with me when I moved back to Wisconsin. I doubt I stand alone on my enthusiasm for the agave, however. Heck, you may also be a unknowing fan of the agave…after all, the blue agave is the source for tequila. Margaritas, anyone?
An agave is sometimes known as a century plant, since it lives for many years (no, not actually a hundred) before sending up a giant flower stalk some 10-30 feet in the air, flowering, then dying. As you can imagine, flowering is officially a Really Big Deal for the agave, and it diverts a lot of energy—literally—for that event. Just before flowering, the heart of the agave contains a great deal of inulin, a sweet carbohydrate which can be converted into sugar through the use of heat and/or enzymes. Some southwestern and Mexican cultures held and sometimes still hold traditional agave harvests, during which the heart of the agave is roasted in an underground pit. The smoky, caramelized results are a sticky treat that I had the opportunity to try while living in Arizona.
In modern processing, however, a speedier heat or enzyme treatment converts the inulin into sugars—mostly fructose, which is not readily absorbed by the body and won't cause blood glucose levels to spike in the same way that consuming the same amount of glucose will. Because it has a lower impact on blood sugar levels, agave is often recommended as a natural diabetic-friendly sweetener. That said, think practically. If your agave nectar is headed into a cake, that cake will have other carbohydrate sources in it (i.e., flour), so even a diabetic friendly dessert shouldn't be considered a "free" food; diabetics have to consider the entire carbohydrate load of what they are eating, not just whether or not it contains sugar. Also important to note is that agave contains the same amount of calories that sugar does, so agave-sweetened treats are not weight loss aids. As with most things, a common sense approach is the best bet: sugar in any form, including agave nectar, should be enjoyed in moderation. Choose fruits more than baked goods, and when you do choose baked goods, make sure you add some nutritional punch so you're not consuming empty calories. Think whole grain flours, nuts, and shredded carrots or apples or zucchini.
Enough about agave…let's talk pumpkin!
I know I promised a pumpkin bar recipe earlier this week. I got kinda carried away this morning, I guess, and wanted something different. Enter a two-layer pumpkin cake. However, you can use this same batter in a 13 x 9 pan (for fat squares) or a jelly roll pan (for flat squares) and just adjust the cooking time if your geometric aesthetic leans toward something with right angles. If you do use a different pan, to know when it's done, just watch for your typical key signs: Is the cake pulling away from the edges of the pan? Does it spring back when you gently touch it? Does a toothpick inserted in the center come out clean? If so, congrats. You have achieved YUM.  Pull 'er out and start making frosting!
I made this recipe (as squares) a couple times this season already, but I made a few small tweaks to my original recipe this time that really made it pop: adding in a couple additional spices, subbing a heaping soup spoonful of barley malt (which has a nice molassesy flavor) for an equal amount of the agave nectar, and adding both a dusting of cinnamon and some chopped roasted pecans to the finished product.
Agave-Sweetened Spiced Pumpkin Cake
Cake Ingredients:
6 TBSP melted unsalted butter (you can substitute a tablespoon or two of applesauce in for an equivalent amount of butter to cut fat and calories if you need to, but keep in mind that the more applesauce you substitute, the more the texture will change
1/4 tsp sea salt
1 1/3 c. dark, raw agave nectar (see note on agave at the end of this post; you may also sub in 1-2 TBSP barley malt for an equal amount of agave, which will give you a deeper, more molasses-like flavor…my taste testers really enjoyed the addition this time around!)
2 large or 3 medium eggs, beaten
1 heaping cup pumpkin (canned or fresh is fine—just be sure to cook, mash/puree, and drain fresh pumpkin to remove excess liquid)
1 3/4 c. plus 2 TBSP white whole wheat flour (a whole-grain variety of wheat that's milder and more tender than many other whole wheat flours, making it a good fit for whole-grain baked goods)
1 tsp. baking soda
1/2 tsp. baking powder
1 1/2 tsp. ground cinnamon
1/2 tsp. ground nutmeg
1/2 tsp. ground ginger
1/4 tsp. ground cloves
1/4 tsp ground allspice
Frosting Ingredients:
one 8oz. block of Neufchatel or cream cheese, at room temperature (I like Neufchatel, and it has a lower fat content to balance out the somewhat obviously high fat content of the heavy cream)
1 c. heavy cream, well-chilled
1/4 c. dark, raw agave nectar
1 tsp. vanilla extract
optional: 1/2-1 tsp. hazelnut extract
cinnamon for dusting
1/3-1/2 c. toasted, chopped, and completely cooled pecans (just roast in the oven at about 350°, stirring often, until fragrant and slightly browned)
Position the oven rack in the center of the oven, then preheat the oven to 350° F. Grease and flour two 9″ round cake pans.
Mix together the butter and agave. Beat in the eggs and pumpkin, scraping the sides of the bowl as needed. In a medium bowl, sift together the flour, baking soda, baking powder, salt, and spices. Add the wet ingredients to the dry ingredients and mix thoroughly. Pour the prepared batter into the pans.
Bake the cakes until the edges pull away from the pan and the center springs back when you touch it, about 30-35 minutes. Allow the cakes to cool in the pan completely before frosting—this step is important, as the frosting is particularly heat-sensitive.
Meanwhile, you can begin making the frosting. Beat the cold cream at high speed until it is pretty stiff. When it's ready, it will keep its shape when you pull the beaters out or when you run a finger through it to steal a lick. Scoop it into a bowl and set in the fridge. Then, beat the Neufchatel until is is smooth, scraping down the sides of the bowl as needed. Add the agave nectar and the vanilla and hazelnut extracts (if desired), then blend well at high speed, again scraping down the sides. (Note: subbing some real maple syrup for the agave in the frosting is a delicious option, but, if you are cooking for diabetics, keep in mind that maple syrup will have a greater impact on blood sugar.) Finally, grab your whipped cream from the fridge and gently fold it in to the Neufchatel cheese and agave mixture. Be gentle; if you mix with two much vigor, your whipped cream will fall apart. Cover your frosting and put it in the fridge while the cakes continue cooling.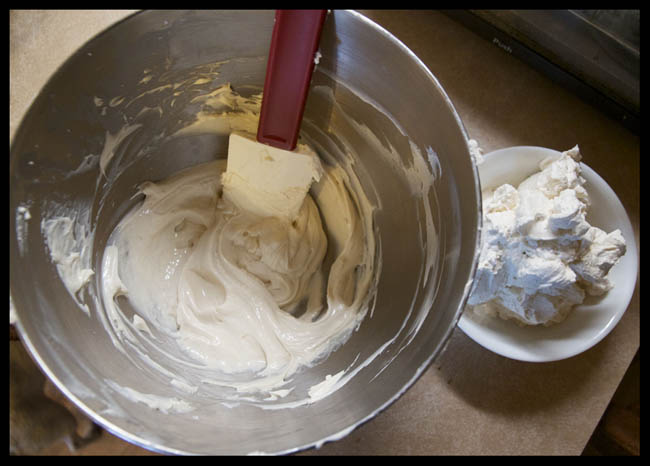 Once the cakes are completely cool, you can frost the bottom layer, stack the top layer on, and finish frosting. To add some extra flavor and visual pizazz to your cakes, sprinkle cinnamon lightly over the frosted cake and scatter toasted pecan pieces generously over the top.
Store this cake in the fridge, but make sure to serve it at room temperature for maximum flavor. Fifteen minutes on the counter should do it!
There you have it. This cake, along with hot tea or cider and some good company, make for a great afternoon break. If you can, eat it outdoors under the changing leaves. In fact, I think the Unicyclist and I need another break…
Happy end of the weekend, all.
Some additional notes for those interested in agave nectar as a sweetener:
I have been asked about the "debate" surrounding agave, particularly about its effectiveness as an option for diabetics. The discussion is centered mostly around the fact that agave sourcing and processing techniques vary substantially among companies, and that research on other possible side effects in diabetics is still fairly limited thus far. I typically use dark, raw agave nectar when I cook with agave, which supposedly carries less of a glycemic load (the amount it causes blood sugar levels to rise). In that regard, it seems to work for mom. The other key thing to watch for is to make sure your brand is 100% agave; some companies thin agave nectar with high fructose corn syrup to maximize their profits. (Thank you, Big Food.) Always, always read your labels.
As far as limited testing and the possibility of other health effects, Dr. Weil (my go-to guy) doesn't currently believe agave is problematic. I am keeping an eye out for reliable research that indicates otherwise, but for the moment, our household definitely does agave. Of course, if your household doesn't need to monitor blood sugar levels, you may be more comfortable staying with a different sweetener, such as maple syrup or raw honey, until more clinical trials are complete.  For those with diabetes, however, agave nectar, unprocessed stevia, brown rice syrup, and barley malt are the most natural options with the lowest glycemic load. When you really want your occasional bakery treat, one of them may best be the best fit for your needs.
9 comments