Archive for November, 2010
Thanksgiving came in a rush at our house this year and disappeared just as quickly. We didn't host, so we simply took our made-from-scratch green bean casserole to the family shindig and brought back an empty dish and some full stomachs. The family event was, of course, very tasty. Mom's pumpkin pie with fresh pumpkin, a fruit salad tossed with cheese tortellini, roasted yams, creamy corn, a mountain of mashed potatoes with an ocean of gravy, and almost enough sweets for everyone to have their own personal pie. It was a delicious and dizzying affair. It also brought home the fact that although we've remained snow-free so far here, the season has turned.
As the leaves grow bare and brace themselves under the freezing temperatures of late fall, I tend to shift into a more introspective mood. I make tea, embrace books, listen to the calls of birds swooping southward.
For those of us who live in northern states, migration is  a concrete fact of the season, woven into our cognitive and emotional conception of autumn. Geese fly in sharp angles overhead, calling out in their harsh voices, over and over. Huge clusters of sparrows swoop over the now-empty grain fields. Gradually, many animals disappear to warmer climes. However, until my uncle Mike, an avid naturalist, took me to Indiana in 2004, migration was just a single thread running through the fall tapestry, much like the rust-colors of the landscape,  the acrid smoke of burning leaves, and the growing chill in the air. Six years ago, he took me to Jasper-Pulaski, Indiana, for the first time, and I caught a glimpse of the phenomenon on a completely new scale. Yesterday, I packed up some gear and brought the Unicyclist with me for a return pilgrimage.
No comments
A few weeks ago, the Unicyclist was tapped to bring in food for an evening seminar he's taking. He said the group has been on something of a hummus kick, so he decided to stick with the theme and whip up a batch of homemade hummus. I chose to balance it with a sweet treat and made a couple pans of granola bars for him to take along.
Apparently, the granola bars were a huge hit, as my husband came home with nary a granola bar and a heaping pile of requests for the recipe. Of course, when he delivered this news to me, the Unicyclist shook his head ruefully. He knows me and recipes…particularly where a staple like granola is concerned. All this meant, however, was that our household wound up with another batch of granola bars this week, as I had to make and measure in order to pass on instructions! So, without further ado, this one goes out to the hungry grad students. May you have long life and abundant supplies of granola. Wo0t!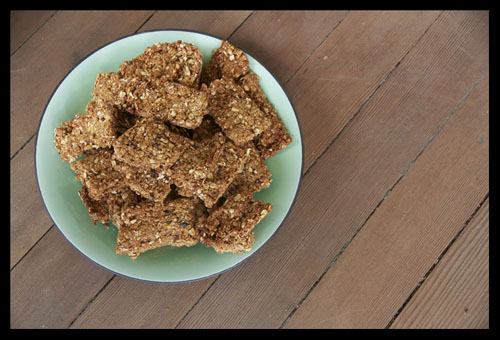 3 comments