A few weeks ago, the Unicyclist was tapped to bring in food for an evening seminar he's taking. He said the group has been on something of a hummus kick, so he decided to stick with the theme and whip up a batch of homemade hummus. I chose to balance it with a sweet treat and made a couple pans of granola bars for him to take along.
Apparently, the granola bars were a huge hit, as my husband came home with nary a granola bar and a heaping pile of requests for the recipe. Of course, when he delivered this news to me, the Unicyclist shook his head ruefully. He knows me and recipes…particularly where a staple like granola is concerned. All this meant, however, was that our household wound up with another batch of granola bars this week, as I had to make and measure in order to pass on instructions! So, without further ado, this one goes out to the hungry grad students. May you have long life and abundant supplies of granola. Wo0t!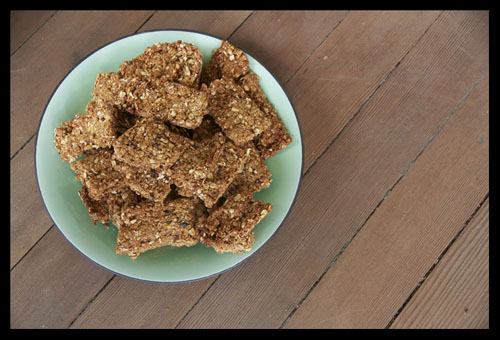 1 c. natural liquid sweeteners such as agave nectar, maple syrup, honey, or brown rice syrup.
Important
: 2/3-3/4 of this amount should be thinner sweeteners such as agave and maple syrup, while 1/3-1/4 should be thick, sticky sweeteners such as honey or brown rice syrup. Also keep in mind the flavor of the different sweeteners: brown rice syrup and agave are mild, but honey and maple syrup are pretty strong. Pick what you like and watch for complementary flavors.
1/2 c. unsalted, natural peanut butter (ingredients should be just fresh ground peanuts)
1 c. toasted chopped nuts such as almonds, pecans, or walnuts (toasting enhances the flavors)
1/2 tsp. sea salt (skip if using salted peanut butter)
1 c. dried, unsweetened shaved coconut
6 c. rolled oats
1/4 c. raw cacao nibs (optional)
Preheat the oven to 300° F and line a 15 x 10 pan with parchment paper (trust me, you'll thank me on the parchment paper later).
Using your mixer, blend the liquid sweetener and the peanut butter well. As you blend them thoroughly, they will begin to appear creamy and thicken up. Then, add in the remaining ingredients two at a time in the specified order, mixing very well.
At this point, the granola will be sticky and clump together well. This is a good thing. Spread it into the prepared pan and, using your fingers or a flat-bottomed glass, press it down firmly until it is 1/8-1/4″ thickness throughout the pan. If you can't get it this thin, add some to another pan. Crunchy granola bars need to be pretty thin, unless you have teeth of iron and a thirst for dental adventures. I've made some more along the lines of 1/3″ and lived to regret it.
At this point, use a knife or spatula to score (pre-cut) the granola bars to the size and shape you'd like. If you like the look of uneven pieces, you can simply break the granola after baking, but trying to cut them after baking is a frustrating ordeal bound to end in a good deal of granola rubble. Once they're set, pop them in the oven and bake them for about 20-25 minutes. If they aren't especially golden at that time, just turn the oven off and let them sit in the warm over for a little bit longer. The heat will help them crisp up while reducing the chance they will burn. Do continue to check on them, though, as they can still get browner than you'd like this way.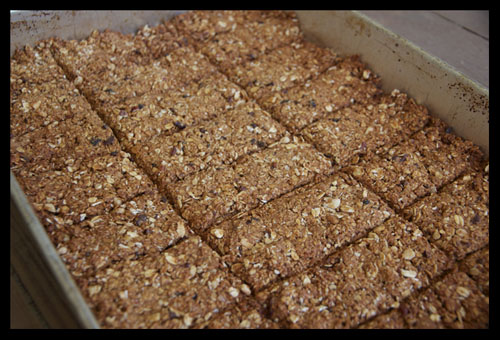 Remove the granola bars from the oven when they are a nice, toasty shade and let them cool completely.
Use a knife or spatula to remove a middle piece from the pan, then break out the others along the lines you cut before breaking.
Store in an airtight container or Ziplock bag and enjoy within a couple weeks!
Community Tip: For the local grad students, here's the handy run-down on what to get where. The cheapest place to get oats, agave, and raw cacao nibs is in the bulk section at Willy Street Co-op. You can also get the coconut there for an affordable price. Most affordable natural peanut butter, nuts, and real maple syrup is probably Trader Joe's or your standard chain grocery, but you can get everything at Willy Street.
Here's to a nomtastic batch of granola!
3 comments