Archive for the 'Featured Farms' Category
This is me. And this is one of the many, many pounds of apples currently heaped up in the pantry enjoying each others' company. More on that in a moment. First, an apology.
I cringed when I saw that my last post was on Christmas goodies. Oh, fearless cooks and dedicated eaters, I am sorry I left you. As sometimes happens, Life got incredibly busy and blogging took a back seat. A really, really back seat. Like, back a few state lines. Maybe somewhere on the other side of the Continental Divide. The other side of the Prime Meridian?
Anyway.
With recent changes, I have more flexibility with and control of my time, and I am looking forward to getting back to talking about food. After all, I do so enjoy a delicious conversation about food and food issues. Simply put, the Simple Spoonful is back in business. So, without further ado…
9 comments
It's July in the Sonoran Desert. The cicadas sing, dust storms roil on the horizon several times a week, the garden is dry and listless, and mesquite pods have begun to litter the ground. Meanwhile, I try to figure out when I can comb the neighborhood for mesquite pods to make flour for the year sometime in my crazy schedule.
It's been a week of peanut butter sandwiches, if you know what I mean. It's been several weeks of peanut butter sandwiches, in fact. With the Unicyclist and myself both in crunchtime, "real" meals are sorely neglected. There's a lot of peanut butter, a lot of omelet, a good deal of hummus and raw veggies, and a fair bit of pancake. It's all about the quick and the easy—what real food we can whip up and eat in a half hour.
Since I've been so busy, I've definitely missed updating the community here on the fabulous summer events we've enjoyed thus far: the second farm day, our escape to cooler climes in northern Arizona, and a darn fine Vietnamese noodle salad I will be enjoying for lunch this week. While I could begin with any one of those things, it seems best to begin by showing some of the pictures from the most recent farm day. Frankly, farm day embodies hope. After all, when my own garden is decidedly brown and crunchy, it's incredibly encouraging that someone is able to grow things during the months of triple-digit weather.
As you will recall, last farm day hit during artichoke season. This time around, however, it was a stand of June corn that sat ripe and ready in the hundred-degree heat. The rows of artichokes were overgrown and buzzing with bees. The buds had burst into bloom like hundreds of violet fireworks.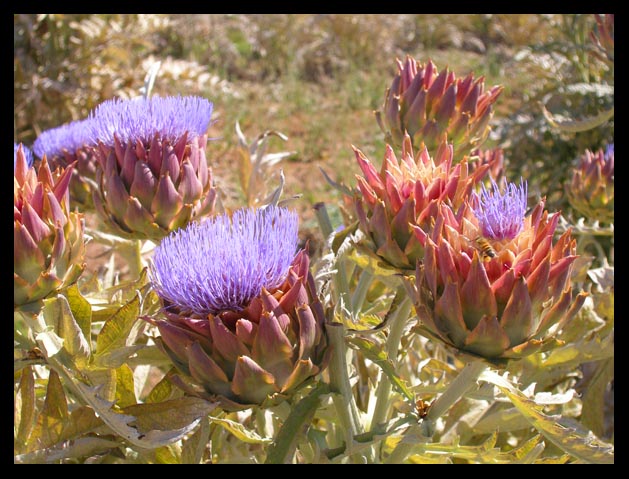 4 comments
In part to celebrate my birthday and in part because 'tis the season, the Unicyclist and I loaded ourselves into our happy little car this weekend and trekked out to Queen Creek to visit Schnepf Farms.
For $1.75 a pound, you can pick peaches—the earliest ones in the nation, unless I'm mistaken—and eat as many in the field as your stomach can hold, free.  If there is a benefit to triple-digit temperatures the first week of May, this is it.
7 comments